Feather Headbands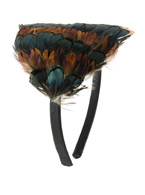 Name:Feather Headband
Price:$14.99
Price:$49.99
Feather Headbands
Feather headbands are all over the glossy pages of women's fashion magazines and are frequently seen on the biggest and brightest stars of our day. You can also find them on just about any catwalk around the world. Now you can grab this sexy and fun look for yourself with our feather headbands. Headbands are always in style and lend a enchanting air to any ensemble. When you add feathers to the mix it's a whole new ballgame. Feathers are exotic, they are unique and they are sultry. They lend a romantic feel to the traditional headband. From the beautiful Native American headdresses to the Roaring 1920's, feathers have been a staple on headbands for a very long while.
At headbands.net you can choose from a variety of feather headbands including peacock, goose and rooster just to name a few. They come striped like a leopard print, in polka dot pattern and the always gorgeous and multi-colored peacock. The feather headband pairs with any hair color and in just about every hairstyle you can imagine. Seen on the likes of Jessica Alba, Drew Barrymore and Katy Perry among many, many other famous faces. They give a fashionable touch to a functional hair accessory. Some of our feather headbands are thin and adorned with crystals to give them an even more glam look. Other feather headbands have a wide spray of feathers that can almost appear as if they are clipped into your hair as apposed to attached to the headband. The most extravagant of our feather headbands are glued by hand in the most ornate fashion with bright and bold color choices. No matter what look you are looking for in regards to your feather headband you can be assured you will find just what you want in our collection. We pride ourselves on finding the most popular and stylish feather headbands.
Feather headbands offer one of the hottest fashion trends currently, especially metallic Feather headbands. Stars like Sandra Bullock, Winona Ryder, Nicole Richie, and fashion queen Paris Hilton have all been wearing Feather headbands lately, and these have a unique style all their own. Feather headbands can help secure and anchor your hair, so there are no fly away hair issues or bad hair days when you just can not seem to face yourself in the mirror, much less go out in public. Feather headbands are very lightweight, and are unnoticeable once they are put into place, except for the stares and attention you will start receiving. Feather headbands can be rigid or flexible, depending on your preferences, and these fashion accessories are available in the single and double variety.
Feather Head bands
An online search for Feather headbands will reveal thousands of results, and these headbands come in an enormous variety of colors, designs, and styles, so there are sure to be some which are a perfect fit with your wardrobe, your budget, and your personality. These feather headbands can be simple or elaborate, and are available with and without decorations and embellishments. It does not matter what type of Feather headbands you are looking for, it can be found online for a very cheap price and no hassles or inconvenience. Why pay more for Feather headbands when you can get them for much less? These headbands can help you look fashionable no matter what the situation or circumstances are, or what your plans include.
Shop Now