Bow Headbands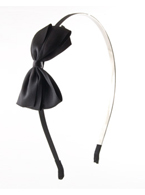 Price:$14.99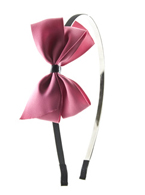 Name:Purple Satin Bow Headband
Price:$14.99
Bow Headbands
Bow headbands are a trend that is not going anywhere. They started appearing on the fashion scene in the first decade of the 21st century and they are certainly not going anywhere anytime soon. From Leighton Meester as Blair Waldorf in Gossip Girl to Gwen Stefani in her own designs, the trend is obviously a favorite of celebrities and girls next door alike. Big bows, small bows, striped bows, satin bows and shiny bows are just the tip of the iceberg as far as styles available of the bow headband.
Some may be weary about wearing the bow headband because they may think it's age inappropriate or a bit too over the top for them. Well think again ladies, this trend is perfectly acceptable for both a 2 year old and a 30 year old. Not only is it completely acceptable, but don't be surprised if it even makes you look younger. It adds a bit of playfulness to your look and that seems to be infectious. Many times all you need is to slip on a bow headband and voila you just feel younger.
Bow headbands can be found at boutiques and department stores for hundreds of dollars. We just find that ridiculous! How are we going to live fabulously and fashionable without affordable options? Have no fear, headbands.net is here. We have an endless selection of bow headbands whose styles are literally ripped from the pages of your favorite fashion magazines. Basic black is a good bow headband for the timid girl and the metallic silver headband for the risky fashionista. No matter which bow headband you choose you really can't go wrong. All of us at headbands.net have you covered when it comes to fashionable fashion accessories.
Bow Head Bands are Fashionable
Wearing a bow headband has become very fashionable currently, and as always Paris Hilton is the queen of fashion, and the number one celebrity when it comes to being seen or photographed wearing a headband. In fact, there are probably more pictures of Paris with a headband than there are pictures of her without a bow headband, and that is saying a lot because we all know how the media and the paparazzi adore her. Paris has been seen wearing a metallic gold bow headband, a plaid bow headband, a striped bow headband in blue and white, and many other styles and colors as well. If anyone knows fashion it is Paris Hilton, and she knows that wearing a headband can pull your whole look together and complete it.
Another star who counts a bow headband as her favorite fashion accessory is used to be gal pal to Paris Hilton and new mom, Nicole Richie. This celebrity has been spotted frequently, and most of the time she is wearing a bow head band to keep her long blond locks tamed and under control. One of her favorite bow headband accessories is a blue and white polka dot scarf headband that really makes Nicole stand out in a crowd. Britney Spears likes to wear a headband that is bold and bright, with many colors and eye catching designs. This pop star has been frequently seen wearing a headband, sometimes one that is small and simple and at other times preferring large bow headbands that really stand out
Shop Now